SLOT SILOS – DISPOSABLE LIQUID TIGHT
The slot silos
Our concrete elements for the slot silos have optimum acidity protection (environmental class XA3) and are suitable for use in a highly aggressive chemical environment. Because of our special production system of the silage elements, water cannot penetrate. Our silage elements are disposable liquid-tight!
The advantages of the Kornet slot silos
The Kornet silage systems offer you many advantages in terms of working more efficiently within your company and improving the quality of the roughage.
Slotted silo walls
The stable and heavy steel construction that is filled up to the top between the slot silo walls, together with the ground wall, ensure an extremely stable and safe working situation.
You can also use a wheel of 50 cm wide to create an optimal cm² of pressure along the sides of your pit. This allows you to optimally compact the roughage against the silage silo walls. Because of the robust construction, our walls can in fact support an axle load of up to 20 tons, with a dry matter percentage of 25%!
The slot silo is guaranteed airtight because the walls of the trench silos are sealed with a special high quality, elastic and acid resistant sealant (also in case of severe frost). The ground wall ensures that the slot silo wall is absolutely airtight.
Thanks to this construction with a ground wall, the slotted silo walls provide optimum coolness to your sensitive roughage in the hot summer temperatures.
You can optimally attach the cover plastic or the cover overlap at the ideal working height of 2/3 metres. As a result, the roughage is optimally protected against storms and sealed against the ingress of oxygen and rainwater.
This method of a solid slot silo wall and an optimal covering system ensure a fast and optimal conservation of your roughage, which will lead to an optimal conservation, so that you actually perform what the silage analysis indicates. In this way, your valuable dairy cattle provide optimum milk production.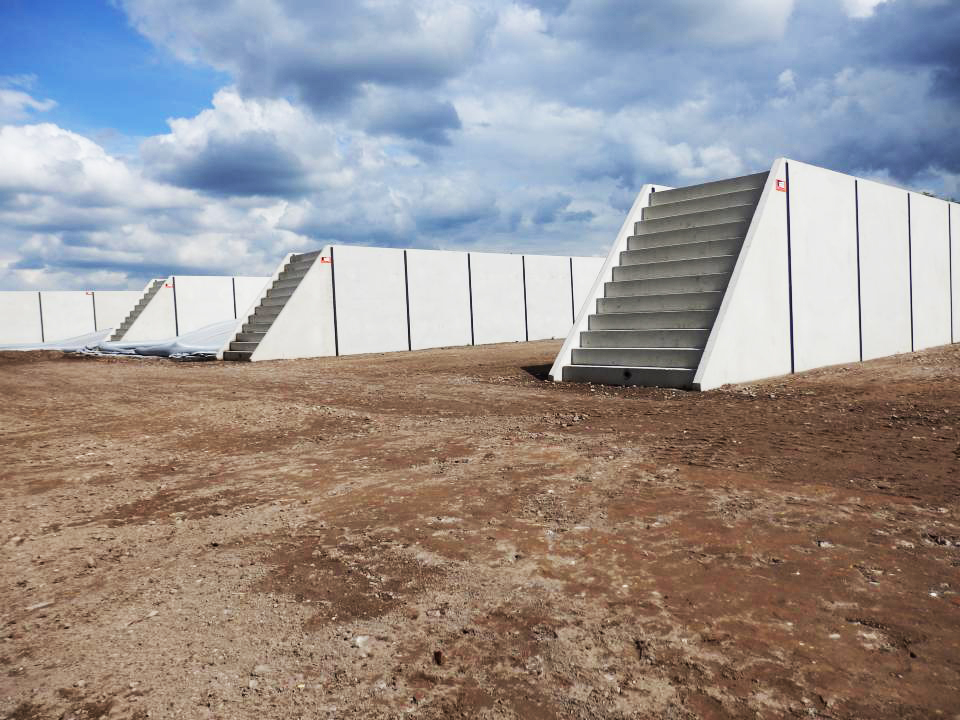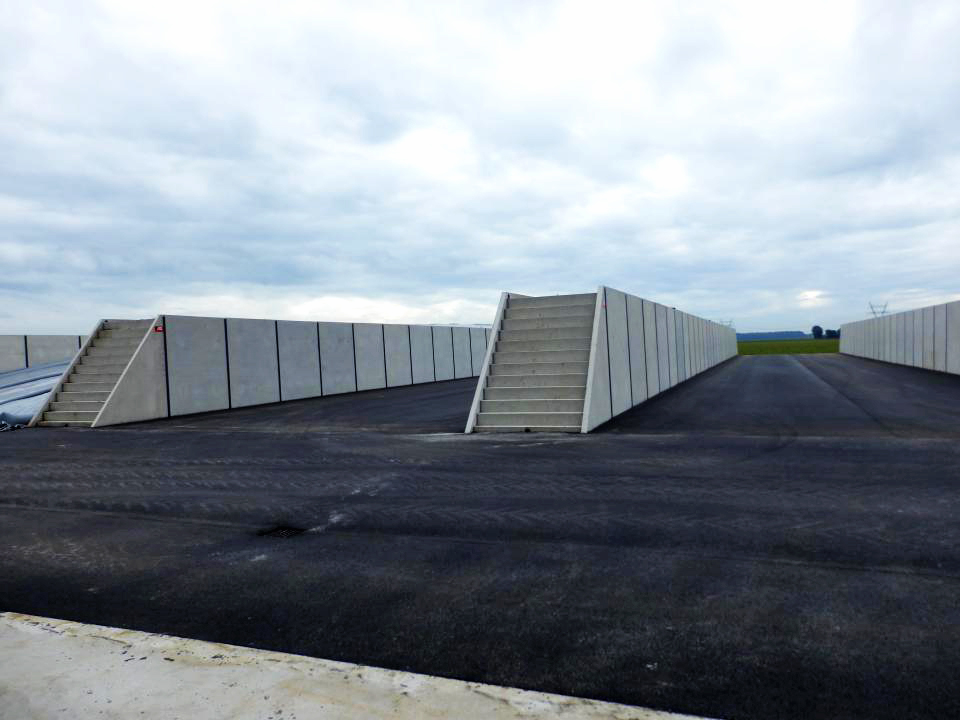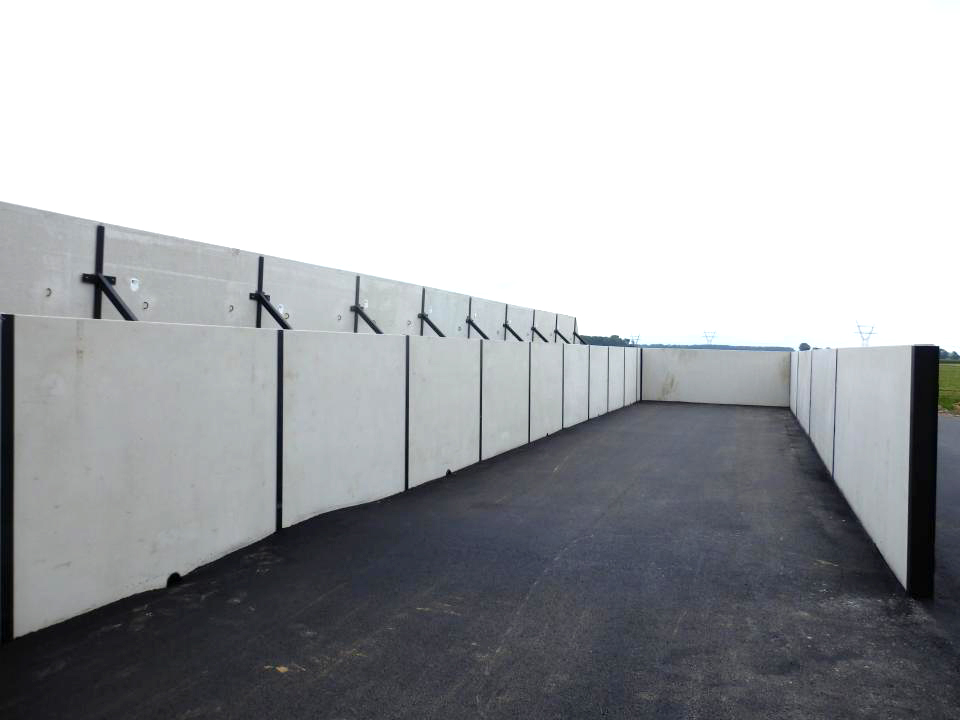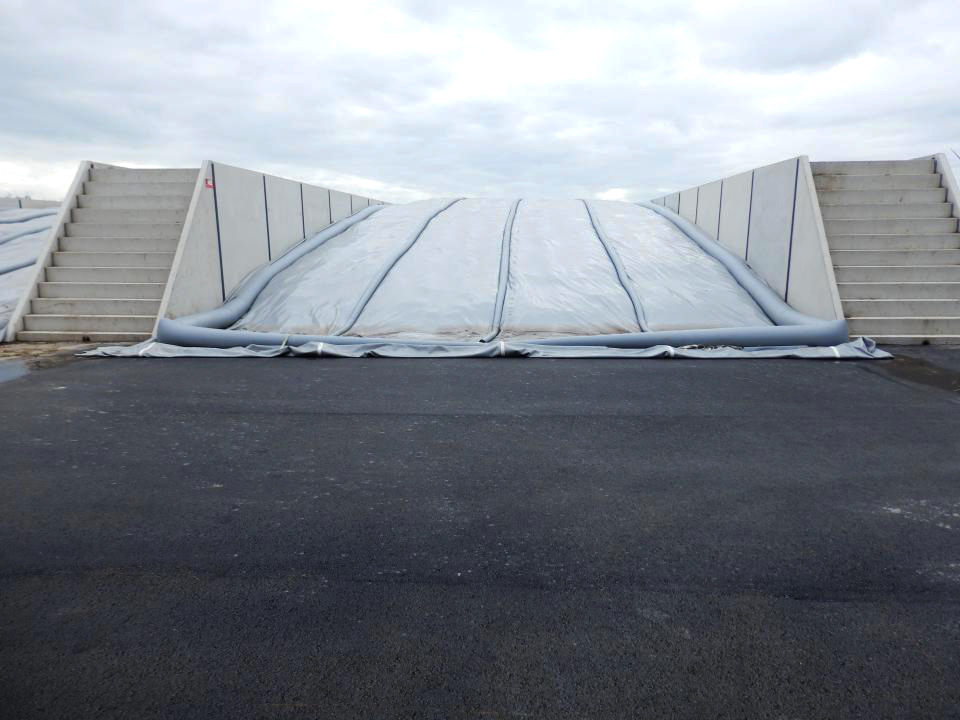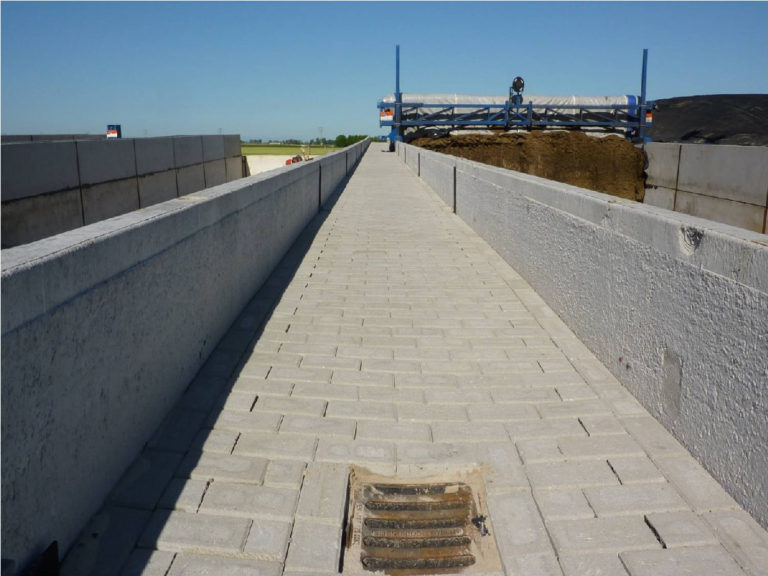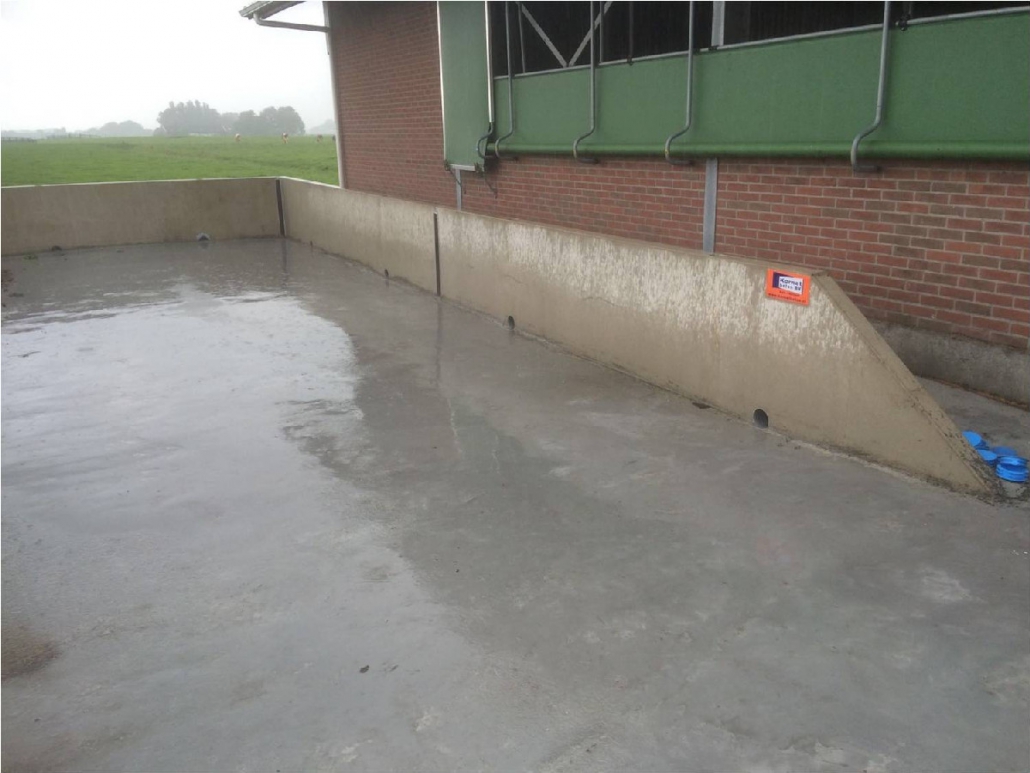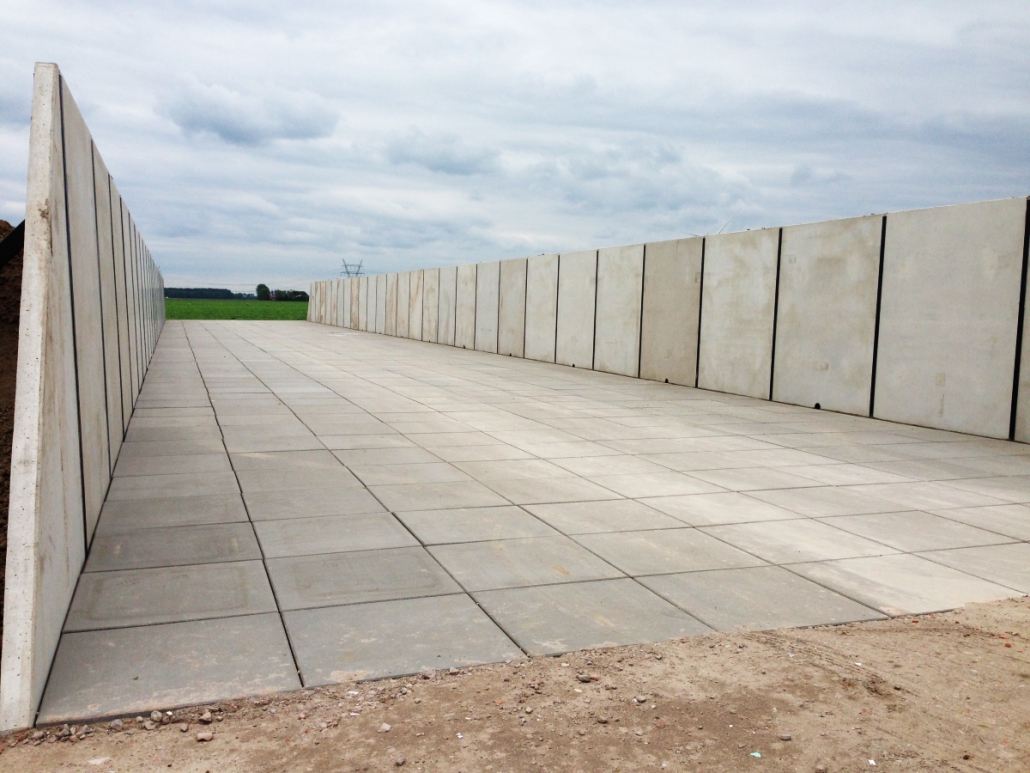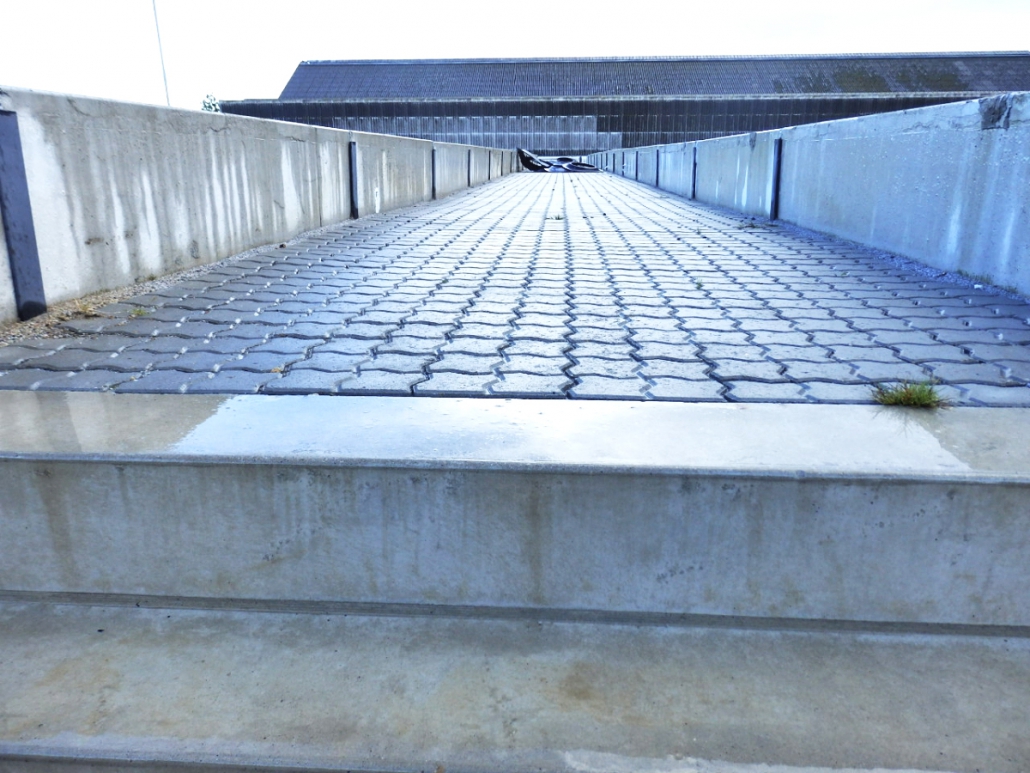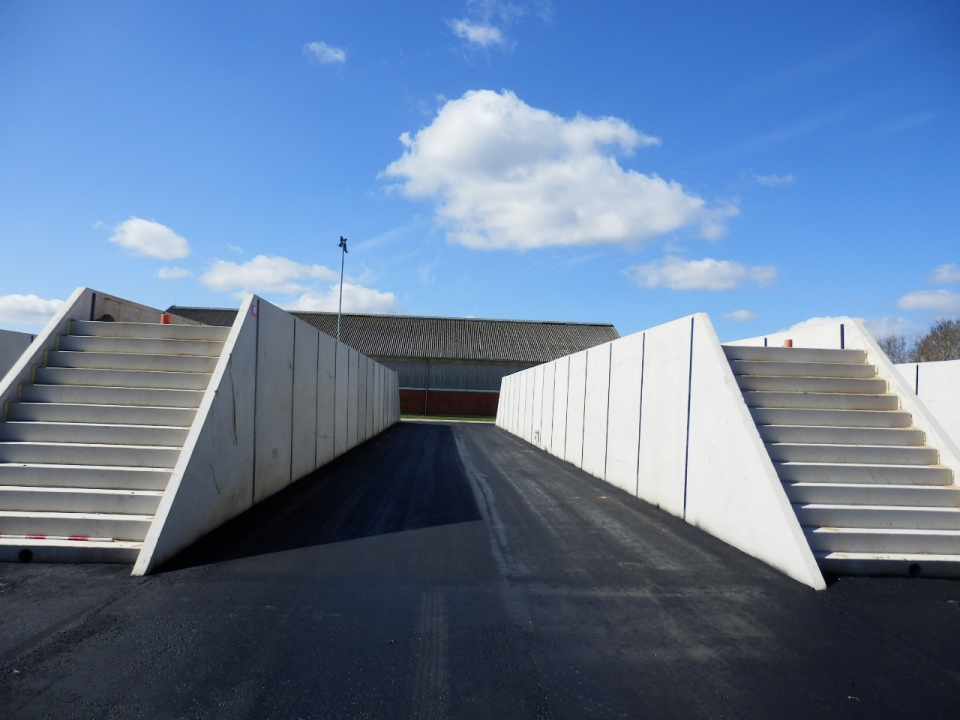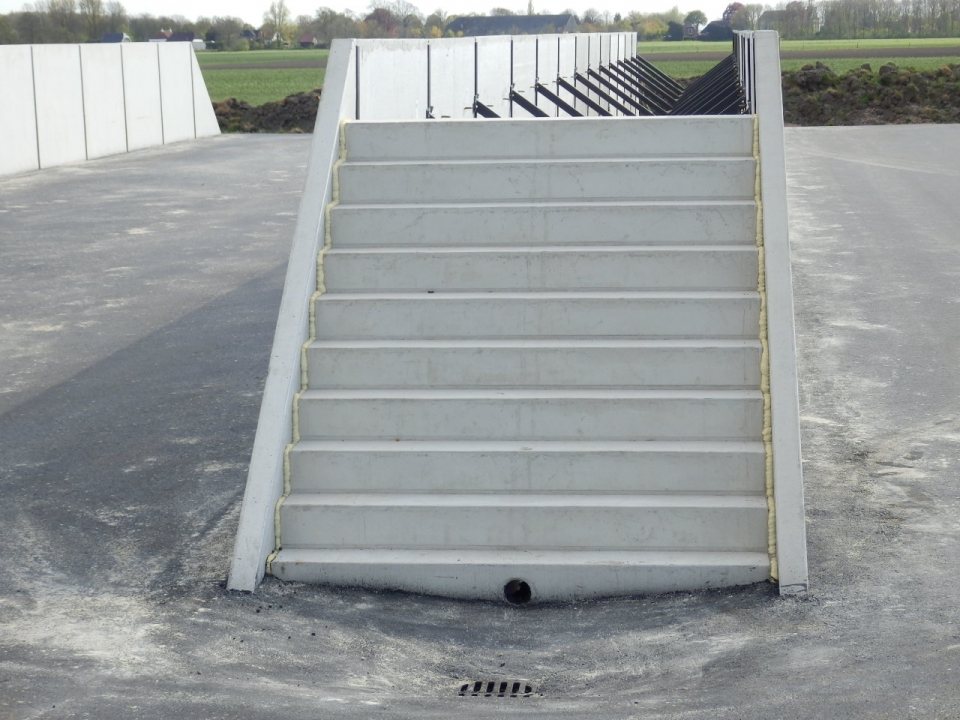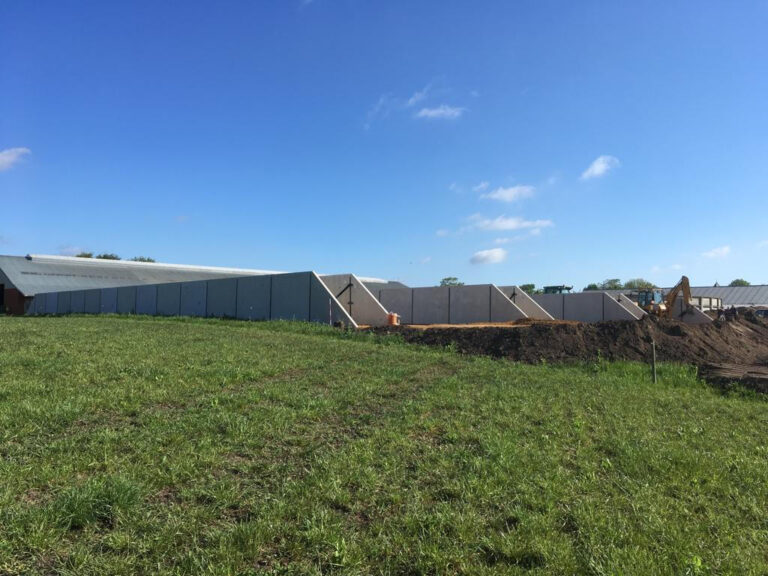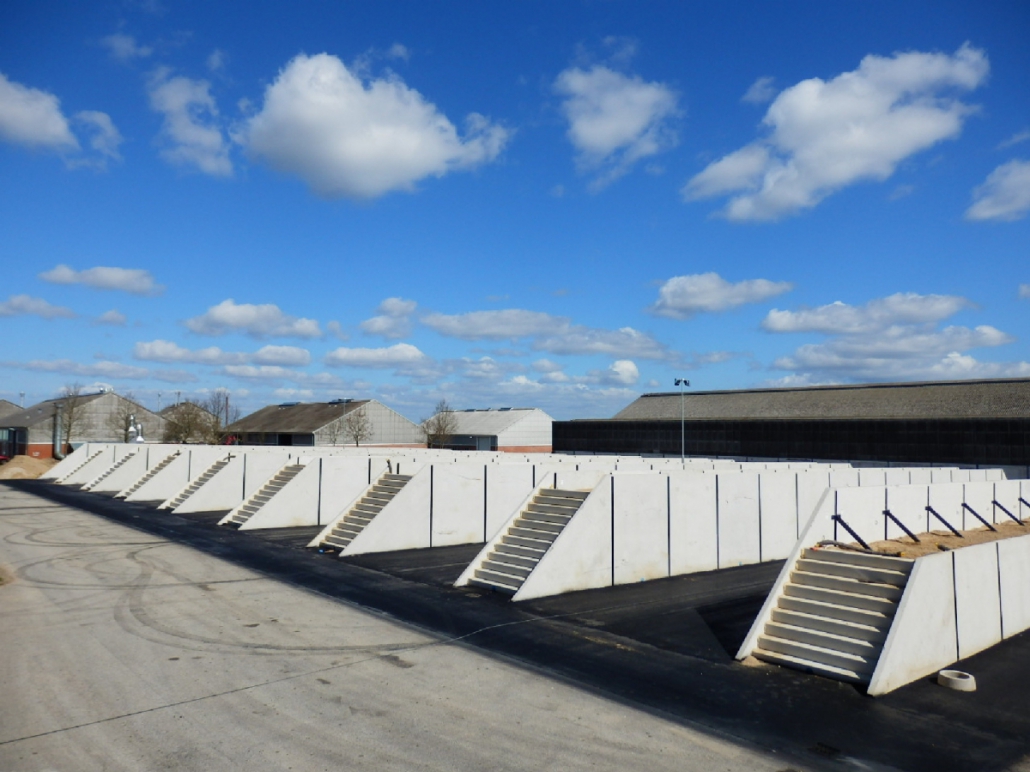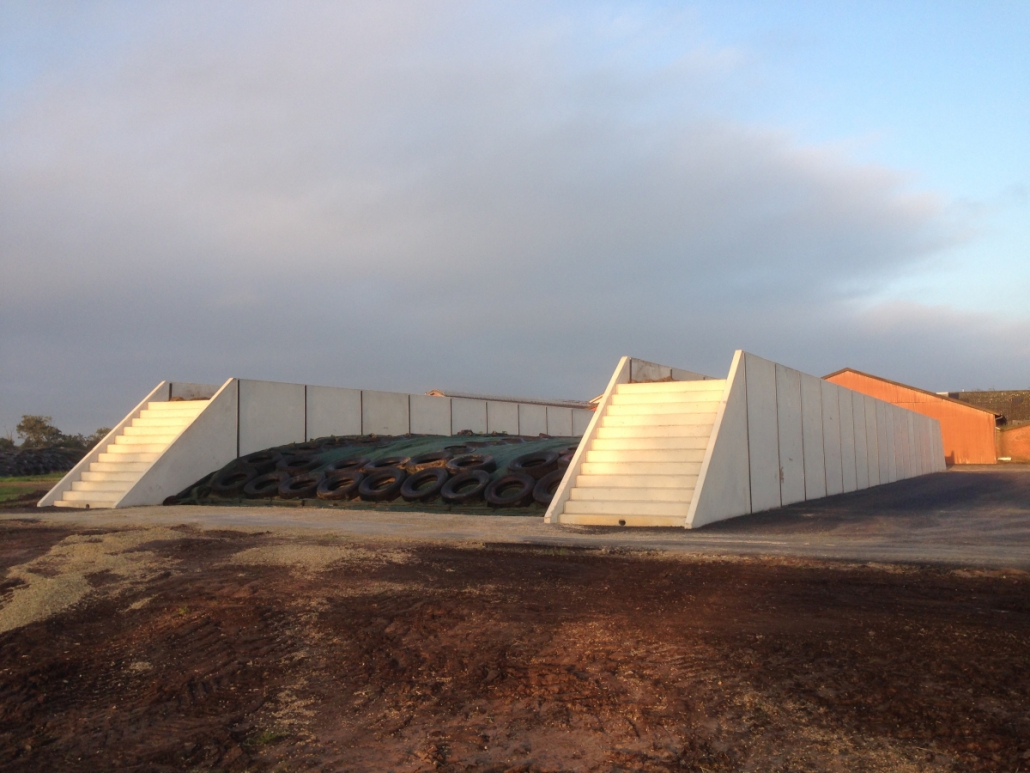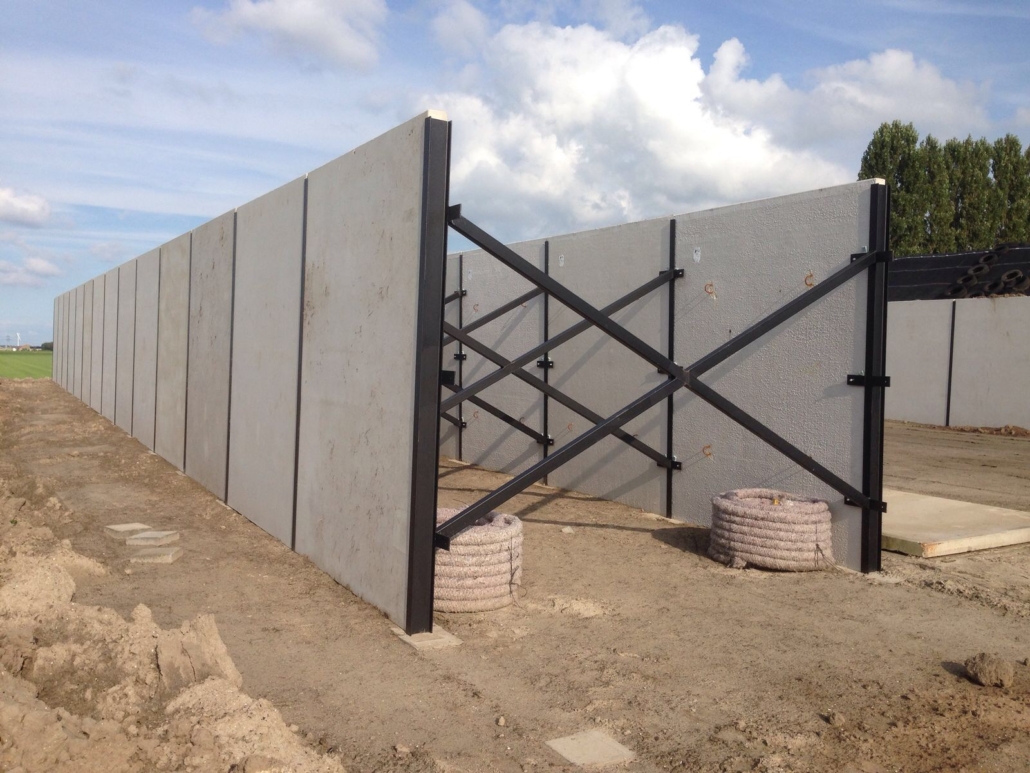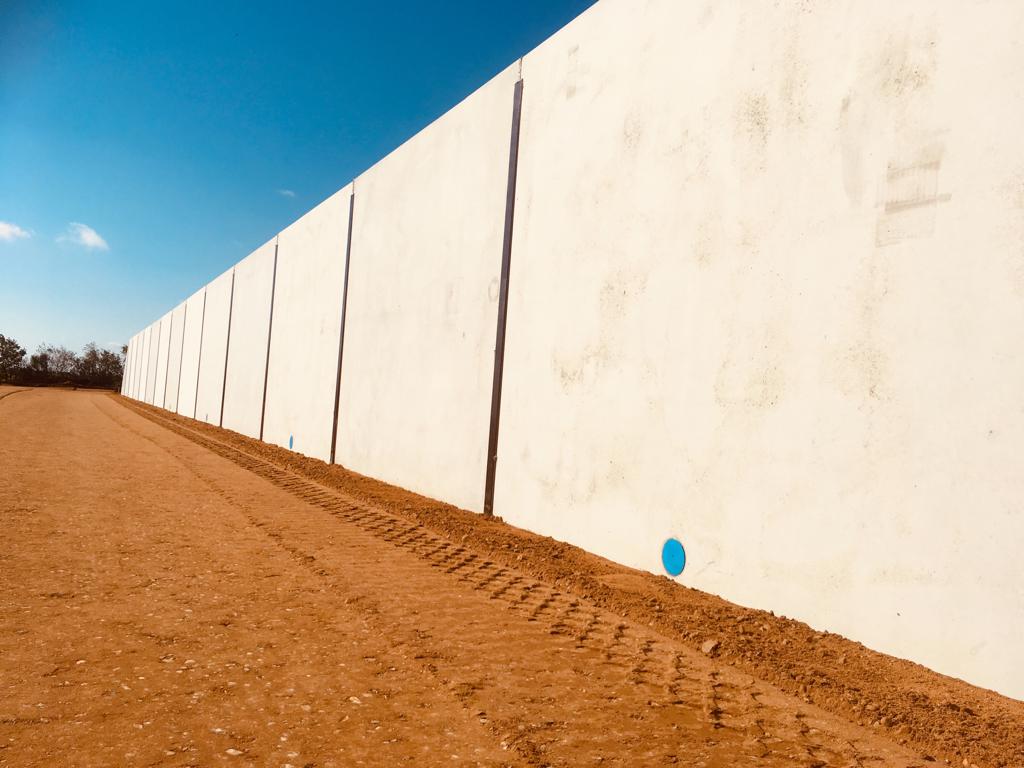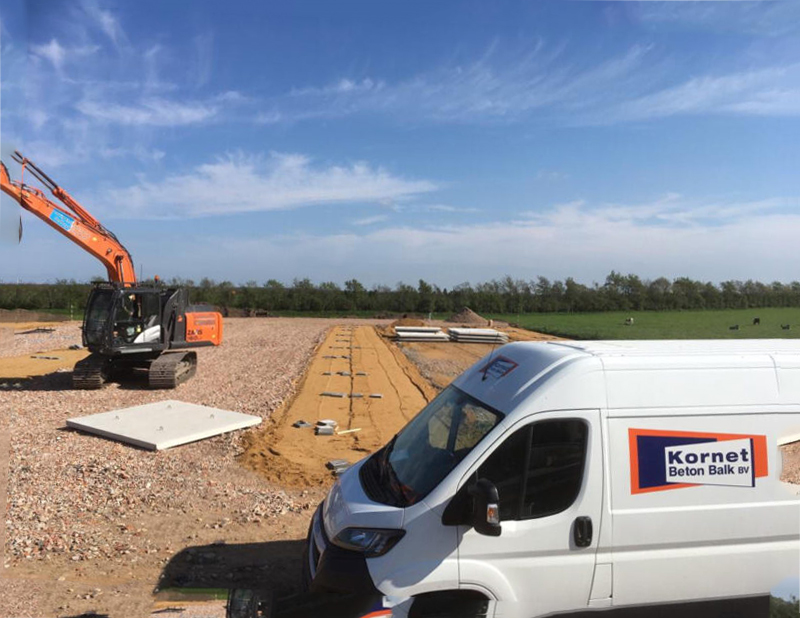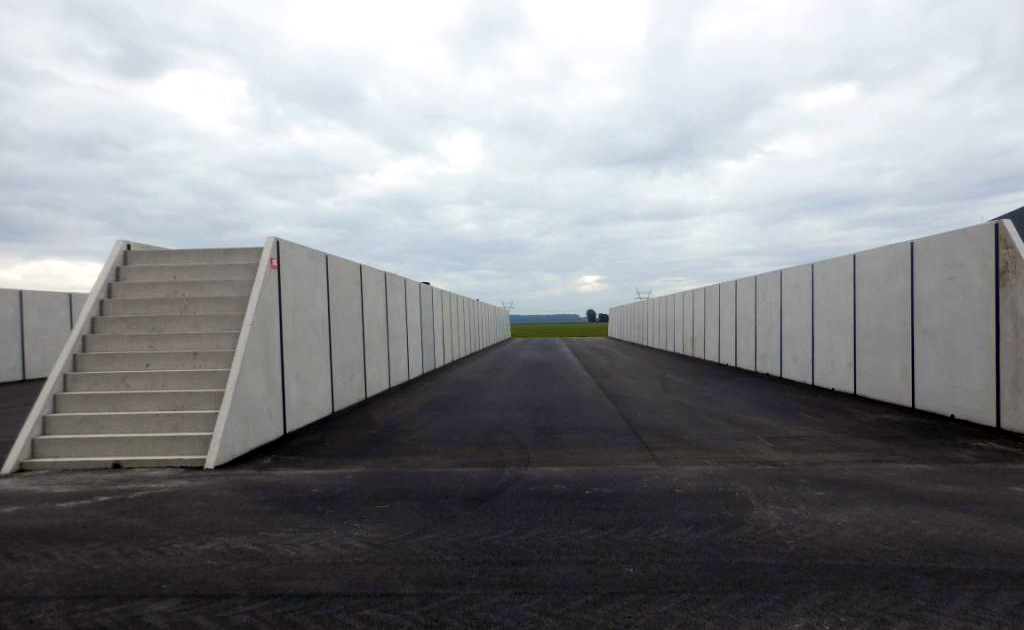 1
One of our options is a step element.
2
Seal with elastic acid-resistant kit
3
Choice of asphalt or concrete or concrete slabs
4
Level in the longitudinal direction with slopes in the side
5
The standard available heights are;
2.00 meters
2.44 meters
3.05 meters
Slotted silo floor with slope to the side for a cleaner and drier product
By means of the slope of the floor completely to one side with openings of Ø125 in the side walls, it is possible to excavate from two sides. The floor always remains flat/level in the longitudinal direction.
As a result, the water is drained quickly over a short distance in the width of the silo, so that your slot silo also stays much cleaner and your roughage remains optimally dry.
If you are going to use lasagna silage again in April (first cut), you can raise the last grass silage from the rear and use silage again from the front. This ensures that your cows receive a consistent ration throughout the year, resulting in stable milk production among the cows.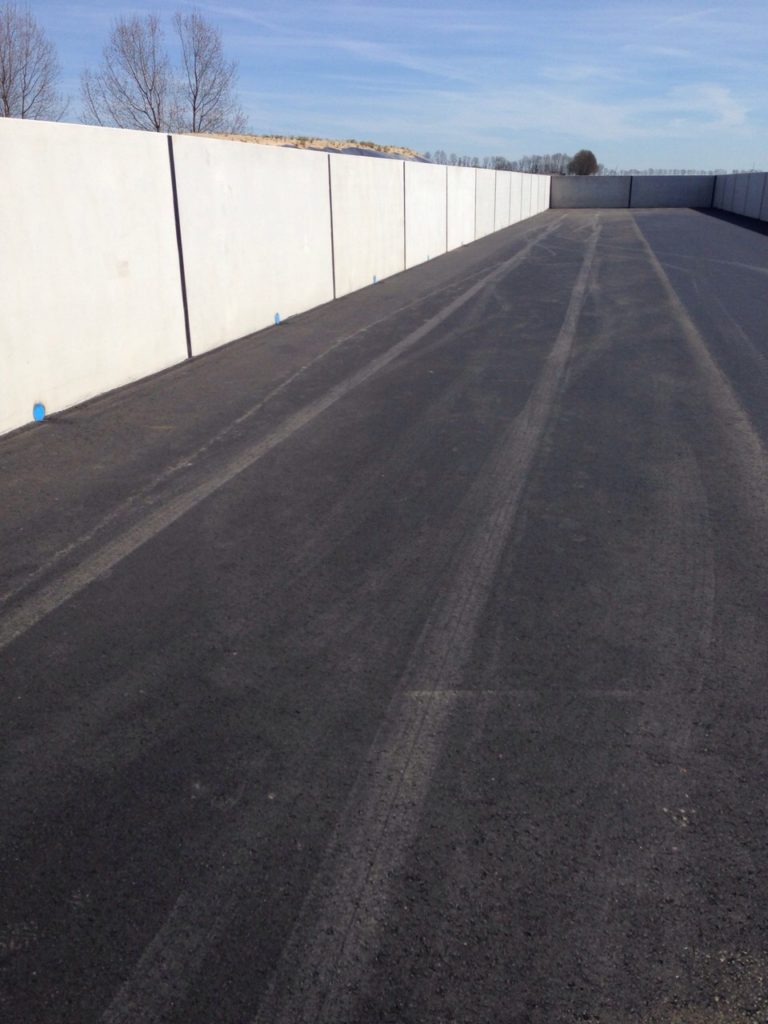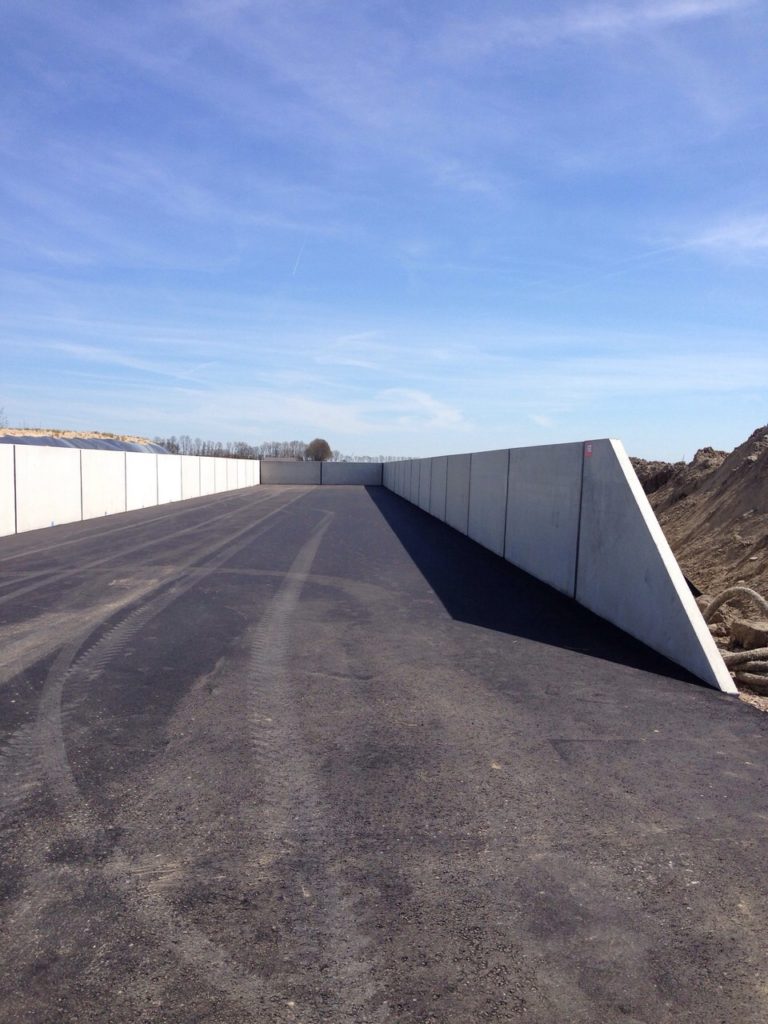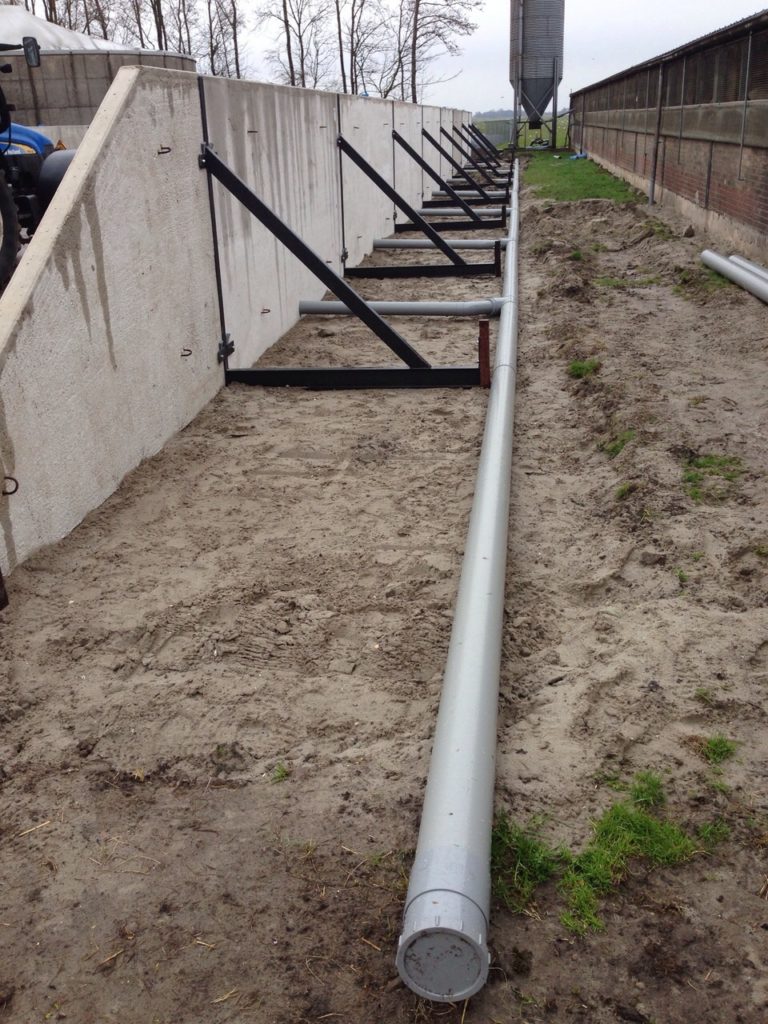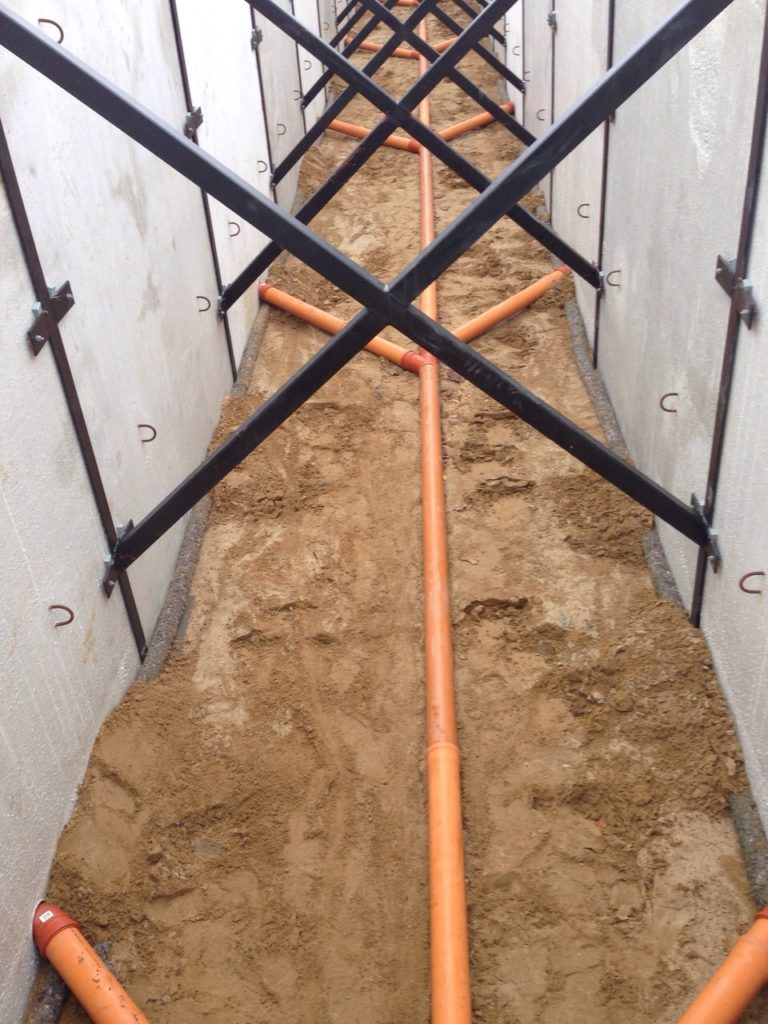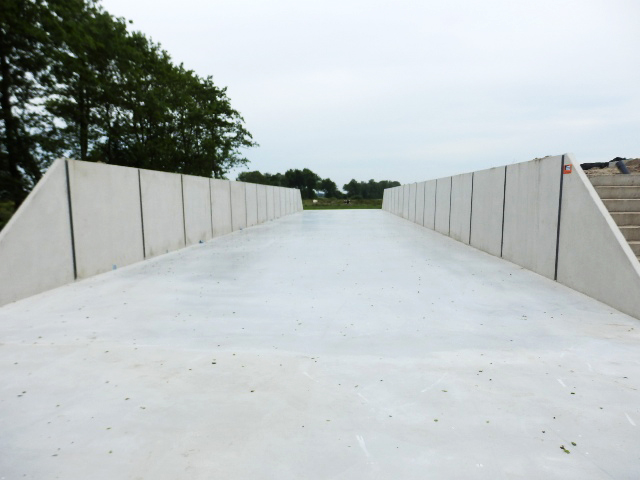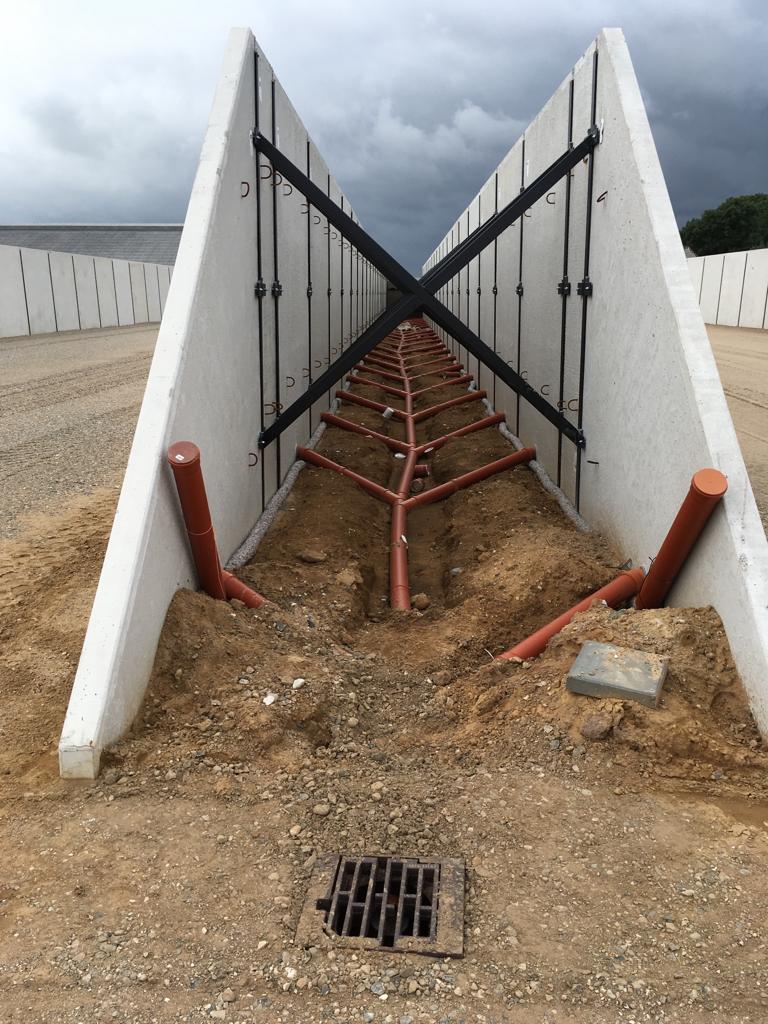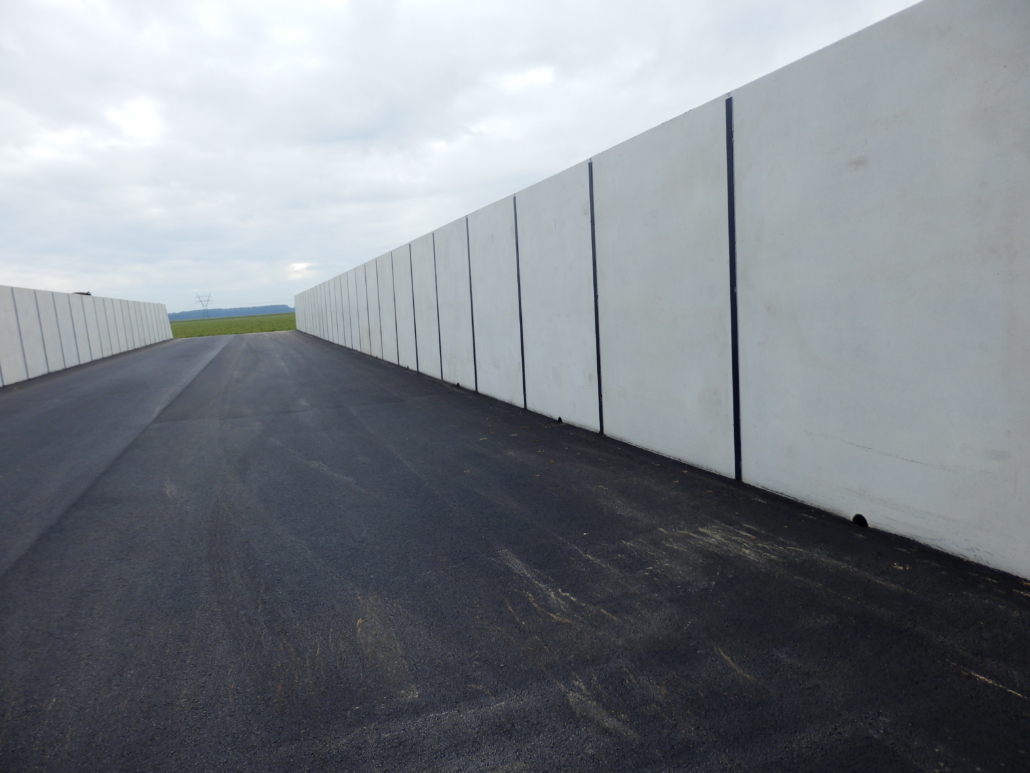 Drainage
To make use of an optimal drainage system, a single-sided transit system is used from the slot silos, after which it is separated from rainwater and press juices in a collection system. The big advantage of this is that the system is cheaper but above all user-friendly. All the water is passed through one thick pipe so that it never clogs and always stays clean.
Result: It does not attract pests that like to be in the remains of juices and that it brings a huge stench during the summer days.
The drains that you do not wish to use are easy to seal by means of a flexible internal sealing lid.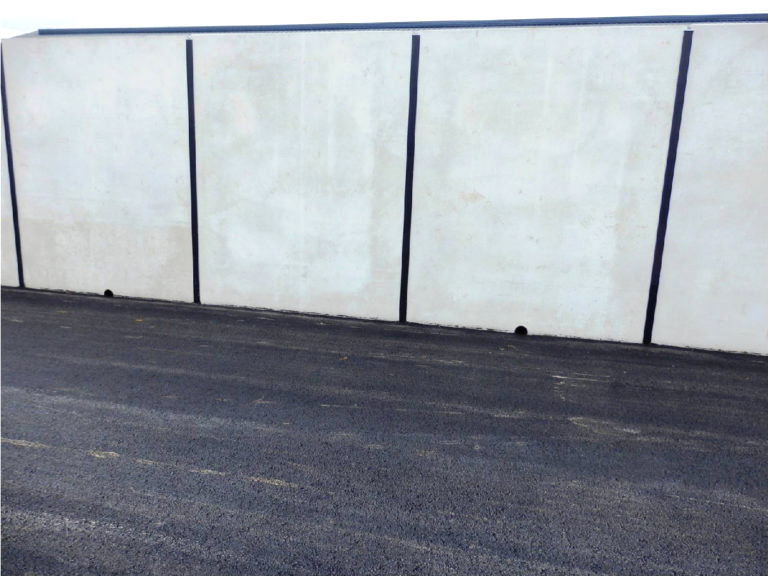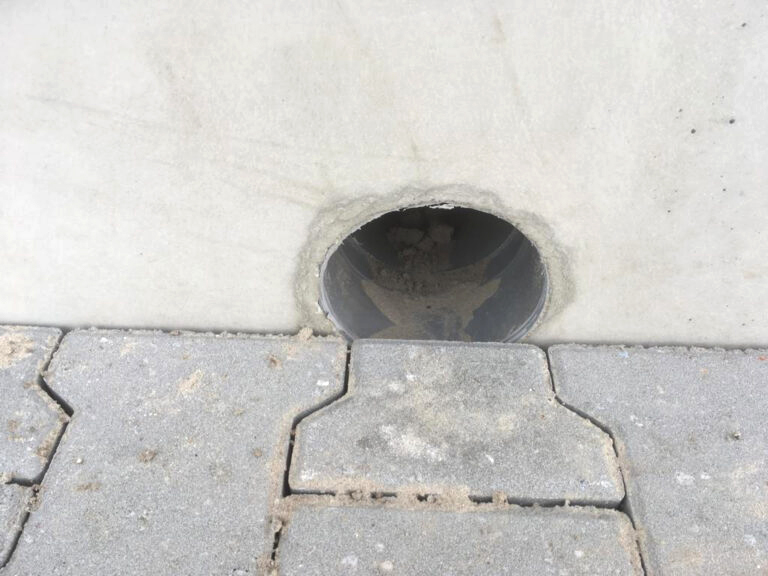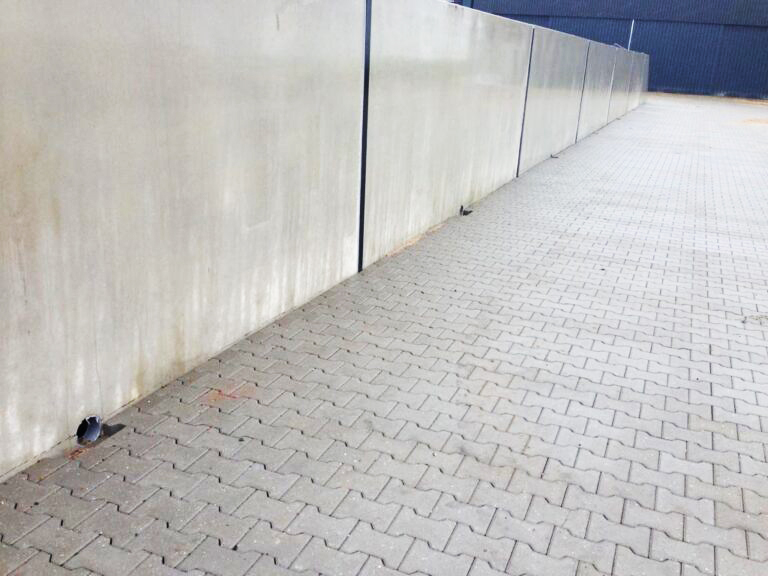 Silo customisation & specials
Kornet makes custom slot silos, so you have many options in terms of dimensions.
The width and length are flexible.
A possible rear wall, sloping end pieces on the walls are possible
And the width of a double wall can be adjusted to your wishes.
A Kornet slot silo is always tailored to your feeding speed, so you always have a suitable slot silo.
The slot silo elements are supplied from stock. The standard available heights are;
2.00 meters
2.44 meters
3.05 meters
Do you want to grow your business in the future?
Kornet offers systems that can be increased. So that in the future, when your business grows, you can easily adjust the height or length of your silo.
Raising is a relatively inexpensive solution, because no new floor has to be poured or the building block on the yard needs to be enlarged. An elevation therefore leads to cheaper
cubic metres and you only have to invest when you are ready. A slot silo grows with your business.
Meeting special demands and requests from customers is our strength! Do you have an idea or a specific wish regarding your slot silo? Please contact us. We will ensure that this can be realised.
Surface and floor of the Kornet Beton Balk slot silos
Kornet Beton also takes care of the floor and the substrate (inclined) of your silo with its own material and personnel, if required. We are also specialised in building slot silos on piles.
Kornet also takes care of the construction of the sewer system and septic tank that meet the correct environmental requirements. This system also complies with the strict regulations in Denmark and Germany.
The soil in the Netherlands often has a weaker structure, as a result of which dairy farmers suffer greatly from extreme subsidence of the trench silos. Kornet has an ideal solution where only the silo walls or the complete slot silo can be placed on piles.
We can also extend or raise your silo walls with concrete elements on T or L elements and poured walls.
Commercial concrete hardening
Kornet Beton can also take care of the paving of your yard, we prepare and do the pouring of the concrete ourselves. Our extensive experience, professional approach and the use of good materials give us a head start.
On average, we pour with a capacity of 25/30 m³ per hour. The pouring is carried out professionally with a heavy environmental class of concrete XA2. The floor is then finished or swept depending on your wishes. If you have other wishes, this is of course possible in consultation with us.
Responding to the situation on site and your personal demands, we will carefully consider the best method. Possibilities are pouring with an outlet funnel or with a concrete pump.
More information?
For more information about the Kornet silage solutions or a check of your roughage, please contact us via the button below or call: +31 (0)514 601990